Petrus Granite and Tile Services is a company built on the principles of hard work, honesty, and integrity. We specialize in the custom design and fabrication of granite and natural stone as well as tile installation for all types of indoor and outdoor projects including:
Kitchen countertops
Shower Walls
Jacuzzi, Spa, and Pool Decks
Tabletops
Vanity Tops
Fireplaces
Flooring
Backsplashes
And much more!
Our goal is to precisely customize each stone with a high level of elegance and perfection to meet your unique style, thus beautifully enhancing your living space and/or your work environment.
That's why no matter what the size and scope of your project, we're with you every step of the way. Our hands-on process always starts with an in-home consultation where we'll go over measurements, templates, design ideas, and then custom design your project with your needs and budget in mind.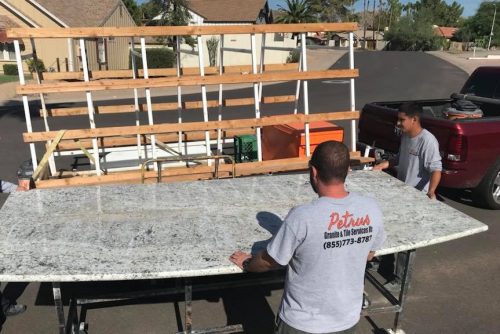 Once your design is complete, we'll schedule a time for you to select your slab. We have a large selection of natural stone such as:
Granite
Marble
Limestone
Soapstone
Onyx
Travertine
And more!
If we don't have what you're looking for, we can find it at one of our partner warehouses, where one of our natural stone and granite experts will accompany you to help ensure the slab you choose doesn't have any cracks and is suitable for fabrication.
At Petrus Granite and Tile Services, our primary focus is quality stone countertops for residential and commercial clients throughout the greater Phoenix, AZ area and beyond. However, we also stock a selection of sinks, and while we don't carry our own inventory of tile flooring, we do provide natural stone tile installation services.
Say hello to your new natural stone countertop!
At Petrus Granite and Tile Services, whether your style is traditional, modern, eclectic, or contemporary, we'll guide you through the entire process. We'll provide fresh ideas, then stand back while you make your decision. We will pull it all together into a home or office design that is beautiful, functional and uniquely yours. Contact us today to get started!